In 1990, US Concepts built its first Arch Moulder in response to market demand for automated processing of irregular wood profiles. Over the 27 years that followed, US Concepts developed and built hundreds of Arch Moulders, Haunchers, Notchers, Stair Machines and Profile Sanders.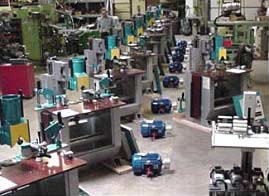 In 2017, US Concepts moved to Wisconsin and became a division of Alaark Tooling & Automation, Inc. Alaark has been building machines of their own for the past 30 years. In 2008, they acquired a customer of theirs, Jenkins Systems & Service LLC, which began their journey with the woodworking industry. Jenkins has been in business for 100 years building woodworking machines of their own, such as their ever-popular double end tenoner. US Concepts will be a great addition to this family of machine builders, and knowledgeable woodworking engineers and technicians.
Alaark companies have proven to be industry leaders focused on maximizing their customer's productivity. While emphasizing workplace safety and personal development, Alaark companies continually improve their products and services through innovation and creative thinking to meet their customers' needs. They relentlessly strive for on-time delivery of the highest quality product, and believes that following this mission will allow ourselves and our business partners to prosper.